Leading Vertical Farm Packaging Design in UAE
Provided comprehensive design and marketing support, creating unique packaging designs for microgreens, lettuce mixes, chocolate mint, and strawberries. We utilized keylines, packaging development, fonts, iconography, variant adaptation, and manufacturing supervision to create a visually appealing packaging design that complemented the brand's visual identity and values. Our marketing support included the creation of activation designs for merchandise in local hypermarkets, as well as HORECA marketing materials and live walls.
Overview & Scope
Our team worked with a leading high-tech vertical farm in the United Arab Emirates, with the goal of expanding their business into the B2C market. While they had experienced success in the B2B market, they recognized the need to develop private label products that would appeal to consumers in the region.
Our team began by conducting a thorough analysis of the market, identifying trends, and consumer preferences that could inform our design approach. We worked closely with the farm team to understand their brand vision and values, as well as their product offerings and target market.
Based on our research and insights, we developed a range of private label products that aligned with the farm brand and catered to the unique tastes and preferences of UAE consumers. We leveraged our design expertise to create visually appealing product packaging and branding that would stand out on shelves and resonate with consumers.
Throughout the project, we maintained a collaborative approach, working closely with the farm to ensure that the final products met their expectations and requirements. We also provided guidance and support on marketing and promotional strategies to help them successfully launch their private label products into the B2C market.
The launch of the private label products was a great success, with consumers quickly embracing the new product offerings. This successful transition into the B2C market has helped Badia Farms establish a stronger presence in the region and increase sales and customer satisfaction.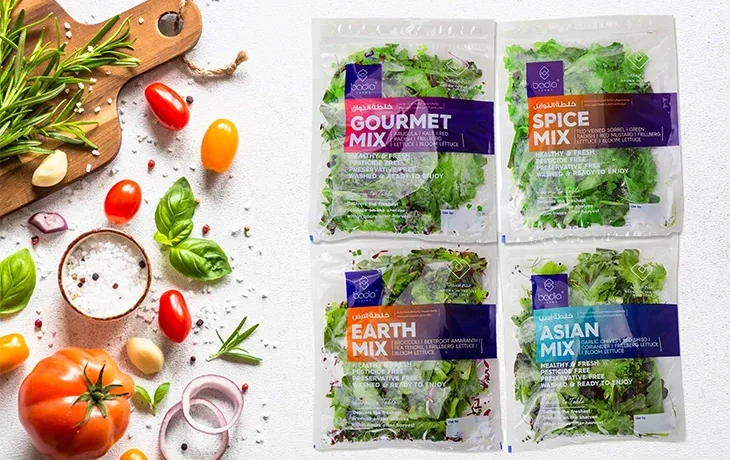 Services
Design
With objective in mind to highlight the beauty and quality of the produce, we had to establish a balance between the pack and the design to make sure not to hide, but rather feature its contents. Design works included but not limited to:
Keylines
Packaging development
Fonts
Iconography
Variant adaptation
Manufacturing supervision
The product ranges covered included:
Microgreens (B2C)
Microgreens (B2B)
Lettuce mixes (B2C)
Lettuce mixes (B2B)
Chocolate mint
Strawberries
Marketing Supporting
Activation design for merchandise in local supermarkets/hypermarkets
HORECA marketing materials & live wall