Leading Convenience Retail Chain Marketing
Improved in-store experience and communication strategy for a leading convenience retail chain. Our solutions included optimizing store layout and navigation, maximizing product density, and developing a clear communication strategy to better connect with customers, leading to increased sales.
Overview & Scope
Our team had the opportunity to work with a leading convenience store chain in the United Arab Emirates to improve their in-store communication and overall customer experience. The company offered a wide range of products and services, including food, snacks, hot and cold beverages, and gas, but they were struggling to create a consistent brand message across all their retail outlets. Our team was tasked with creating regional communication guidelines that would align with the company's broader brand strategy and business goals.
To start, we conducted a thorough analysis of the company's existing communication strategies and in-store experience. We identified key areas where the company could improve, including creating a more consistent brand message across all retail outlets and promoting key products and promotions more effectively.
With these insights, we developed a comprehensive regional communication plan that would help the company better connect with customers and build brand loyalty. Our plan included clear and compelling messaging for key products and promotions, as well as guidelines for in-store signage, displays, and other communication materials.
We worked closely with the company's team to implement the new guidelines and ensure consistency across all retail outlets. We provided training and support to ensure that all employees were able to effectively communicate the company's brand message and promote key products and promotions.
As a result, the convenience store chain was able to improve customer satisfaction and loyalty through more effective in-store communication. They also increased sales of key products and promotions by creating clear and compelling messaging, and enhanced brand recognition and differentiation in a competitive market. The streamlined communication processes across retail outlets led to greater operational efficiency as well.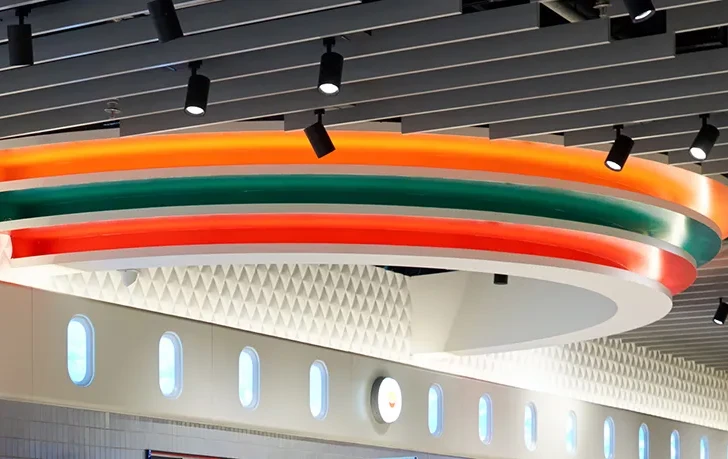 Services
Regional Communication Strategy
Improved overall feel of the outlets & voice of the chain brand in the region, making it clearer and more aligned with the brand's global experiences
Increased awareness of the brand, making it more familiar in the regional market and developing a strong voice that consumers can easily identify
Competitive Benchmarking and Positioning
Analyzed the competitive landscape and determined the unique selling points (USPs) that would differentiate the chain from competitors
Range Review and Category Management (Adjacencies)
Optimized ranging and planogram management for an improved look and feel, navigation, and shopper experience
Layout and Space Optimization
Provided recommendations on ease of shop and maximization of product density vs. customer experience
Marketing and Communication Strategy
Developed a clear communication strategy and design language/tone of voice, including a communication hierarchy
Cafe Basket Spend Improvement
Developed recommendations for profitable utilization of the 'cafe' space in store