Leading Organic Food Store Design in UAE
Created a UAE-based organic food store shopping experience for customers. Conducted a market study, developed a brand strategy, and provided a store design that catered to the customers' preferences and expectations. Our goal was to create a brand and store design that aligned with the client's values and mission and provided an enjoyable shopping experience for all customers.
Overview & Scope
Our team collaborated with a leading organic and healthy food store in the United Arab Emirates to create a new concept that aligned with their vision of promoting organic food to the masses. The project owner had a bigger mission than just satisfying consumer needs. He wanted to educate people on the benefits of eating organic and make organic food more accessible to all.
The concept was built around three primary values - affordability, experience, and selection. The client wanted to ensure that everyone could afford to buy organic products and receive the benefits of eating healthy, organic food. The store's design was created to offer a unique, enjoyable shopping experience for customers, focusing on education and accessibility. The store was designed to cater to everyone, whether they had a special diet or were vegan.
Our team was responsible for developing a strategy, branding, and retail design that covered every aspect of the store's creation. We began by conducting thorough research to understand the target audience, the competitive landscape, and the organic food market's trends. We then created a branding strategy that reflected the client's mission and vision.
The retail design was created to ensure that the store had a warm, welcoming atmosphere and an educational vibe. Our team worked tirelessly to create a 360-degree design that met the client's needs and exceeded their expectations. We also developed a packaging design strategy that reflected the brand's mission and communicated it to the customers. The end result was a fully functional grocery store that offered an educational and enjoyable shopping experience.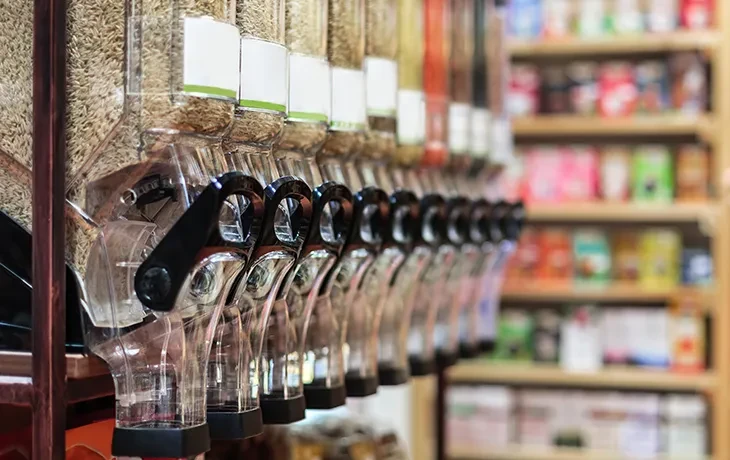 Services
Market Study
UAE market consumer profiling (customer personas & value proposition)
Changing consumer lifestyles & behaviors (USPs for target customers, range & SKUs)
UAE market category overview (ideal experience for different segments & categories)
Brand Creation, Portfolio Definition & Architecture
Retail brand creation as Masterbrand
Defining brand portfolio & relation to product/category ranges & brands
Brand architecture system for key product category identities
Creative development of brand elements (logo, artworks, packaging, merchandising, retail collaterals)
Retail guideline
Store Design
Conceptual design (store look & feel, zoning, category placement & experience)
Schematic design with 3D visualization (realistic store visualization with finishes, signages, categories & scale)
Technical design for contractor execution (detailed technical drawing package for store construction)