Global Fragrances and Beauty Brands Strategy
Optimized retail experience and positionning for global fragrances & beauty brands. We optimized retail performance and customer experience for a major global beauty brand across 5 GCC countries. Through comprehensive audits, data analysis, and customized design solutions, we improved the client's distribution channels, visual merchandising, and customer engagement models. Our strategic roadmap identified priority areas for growth and optimization, resulting in a significant increase in sales and higher customer loyalty.
Overview & Scope
Our team partnered with a major manufacturer and distributor of fragrances, cosmetics, and personal care products to enhance retail performance and elevate customer experience in 5 countries across the Gulf Cooperation Council (GCC) region. With 21 diverse brands spanning luxury, premium, and mainstream segments and operating in 30 different retail formats, the challenge was to develop a cohesive strategy that aligned with each brand's identity while driving growth and efficiency.
We collaborated closely with the client's team to identify key areas of improvement and implement tailored solutions that leveraged our expertise in visual merchandising, customer service, and retail operations. Our interventions ranged from optimizing product assortment and shelf placement to training store staff on engaging and educating customers, and from revamping store layouts and signage to developing new store concepts that catered to specific shopper needs.
Through rigorous data analysis, stakeholder engagement, and iterative testing, we were able to achieve impressive results that exceeded the client's expectations. Our interventions led to a significant increase in sales across all tiers of brands and store types, as well as an enhanced in-store experience for shoppers that translated into higher customer loyalty and advocacy.
This case study showcases our ability to tackle complex and diverse challenges in the beauty industry and deliver measurable business impact through a customer-centric and data-driven approach.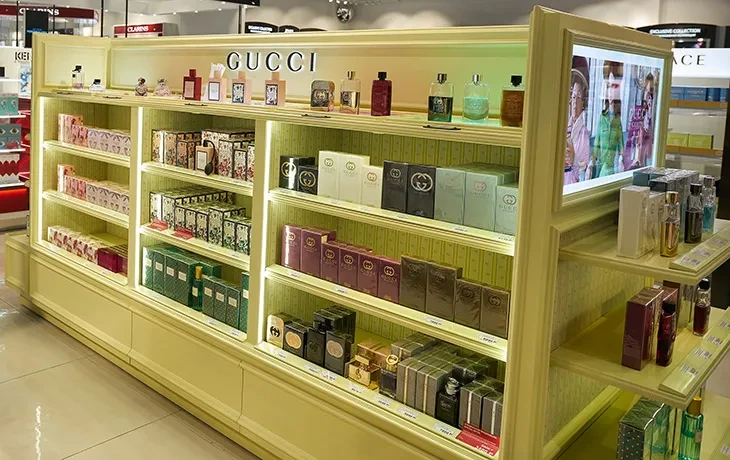 Services
Services
Brand Portfolio Audit & Competitor Brand Audit: We conducted a thorough assessment of the client's brand portfolio, as well as their main competitors, to identify strengths, weaknesses, and opportunities.
Retailer Audit: We assessed the top 30 stores across the 5 GCC countries to provide recommendations on how to improve the in-store experience, increase sales, and enhance brand representation.
Customer Experience Audit: We gathered insights on customer preferences, needs, pain points, and expectations, and recommended ways to enhance the customer experience.
Data Analytics & Visualization: We used advanced analytics and visualization tools to uncover patterns, correlations, and insights that informed our strategic recommendations.
Current State Report: We prepared a detailed report that documented the current state of the client's brand portfolio, retail network, and customer experience.
Scenario Analysis: We conducted a scenario analysis that tested different hypotheses and assumptions about the future.
Strategic Formulation & Roadmap: We developed a strategic formulation that outlined the client's vision, goals, and key initiatives for the next 3-5 years.
Design
Design of Retail POS Merchandise Tools: We designed customized point-of-sale merchandise tools to enhance the visual impact and effectiveness of the client's in-store displays.
Design of Retail POS WUs: We designed innovative window displays that attracted attention, communicated brand stories, and showcased the latest product launches.
Design of Retail POS FSUs: We designed flexible and modular floor-standing units to optimize the use of floor space and maximize the exposure of the client's brands.