Leading FMCG Company Ecommerce Development
Developed e-commerce platform successfully expanding the leading FMCG company operations and entered the B2C retail market. Conducted an in-depth market analysis, created strategic guidelines and designed the platform, which included detailed customer journey maps and personas. The platform was integrated with necessary services, deployed on the web and mobile stores, resulting in increased revenue and customer satisfaction.
Overview & Scope
A leading FMCG company in the United Arab Emirates, recently decided to expand its B2B operations and venture into B2C retail by designing and developing an institutional-level web and app-based groceries e-commerce platform from scratch. This platform needed to have proprietary source code and service both B2B and B2C markets while improving and expanding existing operations.
We kicked off the project by conducting an in-depth assessment of the market and competitive landscape to gain insights into the current market situation and derive key design decisions from regional leaders. A specialized set of tasks was then undertaken to ensure the optimal customer journey for both B2B and B2C customers, while ensuring that the operational back-end fit seamlessly into current operational standards to ensure ease of delivery for both existing and new services.
With the recent public listing of the FMCG company, growing private label portfolio, and ongoing manufacturing and distribution success, the implementation of the new e-commerce platform was crucial for the company's success in the competitive market. Our expertise and design strategy helped the company to successfully launch and implement the new platform, resulting in increased customer satisfaction, improved operations, and increased revenue.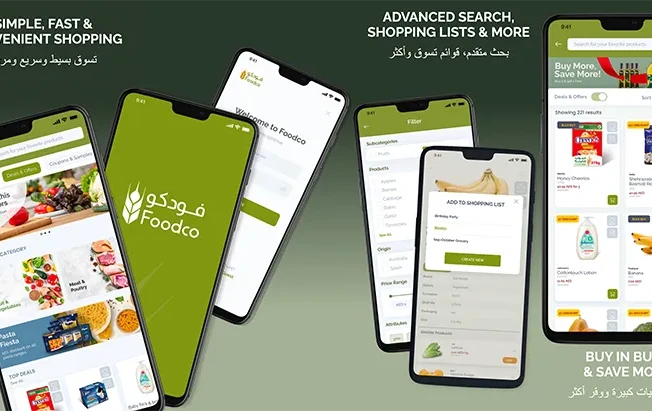 Services
Market Analysis & Entry
Conducted an in-depth benchmark analysis and identified best market practices through case studies to gain insights into the current market situation
Defined the target customer personas and value proposition for both B2B and B2C markets by profiling the UAE market consumers, leading to high-level strategic guidelines for categories and content design
Developed value proposition and unique selling points (USPs) to differentiate Foodco's e-commerce platform from competitors
Created detailed customer journey maps and customer personas, along with key experience attributes for each of the customer personas
Design & Development
Translated the customer journey and design brief into draft wireframes to reflect the functions, content, style, and branding of the platform
Defined the visual direction and layout (User Interface), including visual language through mood boards, brand assets, and content writing
Created a content inventory and developed content that aligns with the overall strategy
Designed user flow and prototyping to ensure optimal user experience
Programmed the agreed-upon wireframes for mobile and tablet applications using React Native, front-end web development using HTML, CSS, and JavaScript, and back-end web development using the Laravel PHP framework
Set up the database and integrated the platform with payments, shipping, push notifications, and other necessary services as part of e-commerce guidelines
Deployment
Set up the database and server to ensure optimal performance
Deployed the platform on the web (front and back end) and on the Apple IOS store (mobile and iPad), as well as on the Android store (mobile and iPad)