Leading Hypermarket Chain Store Communication
Transformed the in-store communication for a leading hypermarket chain in the Middle East, resulting in increased sales and engaged customers. Provided a range of services, including brand identity and logo guidelines, internal and retail communication strategies, customer education programs, customer care services, and customer engagement strategies.
Overview & Scope
We worked with a leading hypermarket chain in the Middle East to help improve its in-store communication. The chain recognized the critical role of effective communication in building brand recognition, promoting sales, and enhancing customer experience. However, the existing communication guidelines were fragmented, inconsistent, and failed to leverage the latest technologies and design trends.
Our team embarked on a comprehensive design and consulting process that covered all levels of communication across the chain's retail environment. We analyzed the customer journey, mapped out touchpoints, and identified opportunities to optimize the use of signage, digital displays, wayfinding, and other communication channels. Our research and analysis led us to propose a set of in-store communication guidelines that not only met the chain's needs but exceeded their expectations.
The guidelines we created were not only visually appealing but also aligned with the brand's identity, values, and goals. They featured a cohesive and consistent design language, incorporating typography, color, and imagery that resonated with the target audience. We also recommended using digital displays and interactive technologies to create dynamic and personalized communication experiences that engage customers and drive sales.
Our work helped the hypermarket chain increase customer engagement, improve brand recognition, and achieve higher sales since the implementation of the new communication guidelines. Our process also helped the chain's employees better understand and implement the guidelines, ensuring consistency and effectiveness across all locations.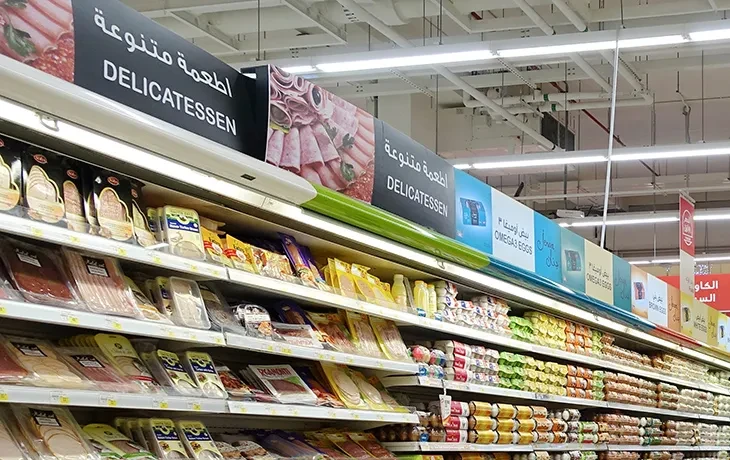 Services
Our team provided a range of services to help the leading hypermarket chain in the Middle East revolutionize its in-store communication and create a more engaging and memorable customer experience. this included:
Brand/Logo Hierarchy and Usage: We developed a comprehensive set of guidelines for the chain's brand identity, logo usage, and visual assets. We ensured that the brand was represented consistently across all communication channels, from storefronts to digital displays
Corporate Internal Communications: We also developed internal communication guidelines that provided a framework for consistent messaging and tone of voice across the company's various departments and teams. This helped the chain's employees better understand and align with the brand's values and goals
Retail In-Store Communications: Our team provided guidelines for all levels of in-store communication, including signage, wayfinding, product displays, and other touchpoints. We aimed to create a cohesive and immersive retail environment that reflected the brand's identity and values and provided a seamless and engaging customer journey
Customer Education "Did You Know": We developed guidelines for customer education programs that aimed to educate customers about the chain's products, services, and values. These programs included "Did You Know" posters, digital displays, and other communication channels that provided fun and informative tidbits about the brand's offerings
Customer Care Services: We provided guidelines for customer care services, including feedback forms, customer service counters, and other touchpoints. We aimed to create a consistent and positive customer experience across all locations
Customer Engagement Strategy: Our team also developed a customer engagement strategy that included recommendations for social media, loyalty programs, and other channels that help to drive customer engagement and retention. We aimed to create a customer-centric brand that leverages the latest technologies and trends to create meaningful and lasting relationships with its customers