Leading Jewelry Retailer Store Design in Saudi
Revitalized a leading jewelry retailer's retail environment in Saudi Arabia by providing modern store design services, resulting in an optimized shopping experience, successful international expansion, and enhanced product visibility.
Overview & Scope
Our team was approached by a leading retail jewelry brand with the ambition to expand their business internationally. They were seeking to revamp their presence in Saudi Arabia by re-launching their concept and transforming their outdated and traditional retail environment into a modern and engaging destination.
Our goal was to design and create a refreshed environment that would showcase the brand's jewelry products in the most optimal way possible. We worked closely with the client to understand their vision and their long-term business goals.
The project was executed in two locations, Al Nakheel Mall and Al Dhahran in Saudi Arabia. Our team carefully crafted a design that combined the brand's heritage with modern elements to create a unique shopping experience. The updated design ensured that the brand's products were presented in a more enticing and accessible way to customers, ultimately enhancing their shopping experience.
The result was a successful re-launch of the retail jewelry brand in Saudi Arabia, and our client was able to achieve their long-term ambition to develop their brand internationally.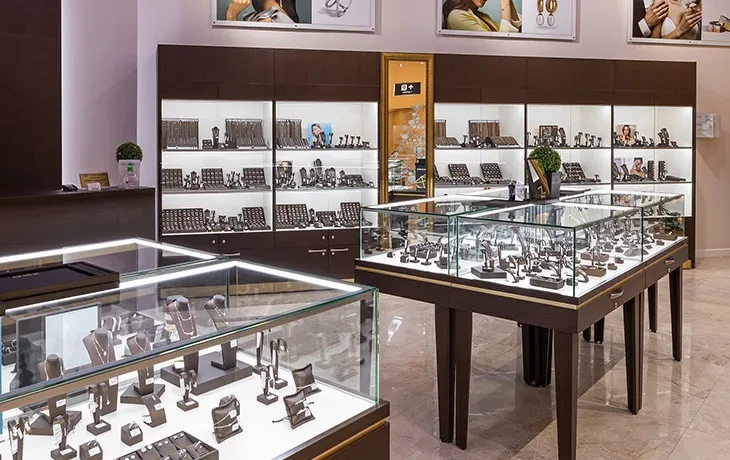 Services
Conceptual Design
We collaborated with the client to create a store concept that aligned with their long-term business goals and was reflective of their brand's heritage. Our team developed a store look and feel, style, zoning, and category placement that would provide a modern and engaging shopping experience for customers.
Schematic Design with 3D Visualization
Our team used advanced software and visualization tools to convert conceptual sketches and zoning layouts into realistic 3D visualizations of the store with finishes, signage, categories, and scale. This provided our client with a realistic representation of their new store design before construction.
Technical Design for Contractor Execution
We created a detailed technical drawing package that included architectural visuals and plans, furniture layout plan, floor finish plan, reflected ceiling plan, interior elevations drawings, shop front elevation, section thru each shop front condition, signage(s) detail, finishes schedule, joinery detailed plan, intent electrical plan, and FF&E specifications. These technical drawings ensured that the store's construction was executed to the highest quality.