Luxurious Pharmacy Store Design in UAE
Designed a unique and luxurious pharmacy concept that set a new benchmark for luxury healthcare retail experiences in the UAE. Our end-to-end services included collaborating with the client, limited merchandise on display, dedicated consultation zones, and a detailed technical drawing package. Supervised the construction process to ensure a high standard, resulting in an exceptional customer experience and a premium shopping environment.
Overview & Scope
A leading player in healthcare product and services in the United Arab Emirates wanted to create a new kind of pharmacy concept that focused on offering only the most premium brands in a luxurious environment, to wanted to differentiate themselves from typical pharmacies and provide an elevated shopping experience for their customers.
To achieve this, we worked closely with the client to understand their vision and requirements. We started with the concept design phase, during which we developed a range of design concepts that captured the client's vision and met their functional requirements. We collaborated closely with the client to refine the designs until we arrived at a final concept that met all their expectations.
Once the concept was approved, we moved on to the design development phase, where we worked out all the details of the design and prepared detailed drawings and specifications for the construction phase. We then supervised the construction process, working with contractors and suppliers to ensure that the design was implemented to the highest standards.
One of the key features of the pharmacy concept was the limited merchandise on display, with a significant portion of the gross leasable area dedicated to customer consultation zones. This design allowed customers to receive personalized attention and access to expert advice on their health and wellness needs. The luxurious environment also created a premium shopping experience that set the pharmacy apart from the competition.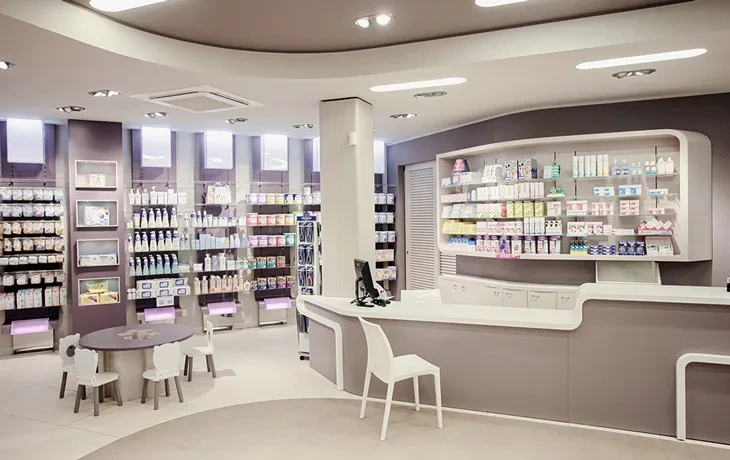 Services
Conceptual Design
We worked closely with the client to create a unique and premium store concept that would feature only the most premium brands in a luxurious environment. Our team of designers developed a range of conceptual sketches that explored different store layouts, zoning, and category placement. We also focused on creating an exceptional shopping experience that would set the pharmacy apart from typical pharmacies.
Schematic Design With 3D Visualization
Once the conceptual design was approved, we converted the sketches into realistic 3D visualizations that showcased the store's finishes, signages, categories, and scale. These visualizations helped the client better understand how the store would look and feel in reality and allowed us to make necessary adjustments to the design.
Technical Design For Contractor Execution
With the final schematic design in place, we created a detailed technical drawing package that the contractor would use to execute the construction of the store. The package included:
Architectural visuals & plans
Furniture Layout Plan
Floor Finish Plan
Reflected Ceiling plan (lighting / AC / Sprinkler / Smoke detector)
Interior Elevations Drawings
Shop Front Elevation
Section Thru each Shop Front Condition
Signage(s) Detail
Finishes Schedule
Joinery Detailed Plan
Intent electrical Plan
FF&E Specifications