Luxury Beauty Retailer Store Design in Oman
Revamped shopping experience for a luxury beauty retailer in Oman with a comprehensive strategy and design services. Conducted a market study and created a new brand architecture, uplifted branding, developed collaterals and assets, and a new retail concept for beauty and homeware products. The retailer now offers an exceptional shopping experience, reflecting their luxury brand image and standing out in the competitive market.
Overview & Scope
Our team was approached by a leading luxury beauty, cosmetics, and perfumes retailer in Oman. The retailer, which had been in business for over six decades, had a long tradition as businessmen and merchants in the Arabian Gulf, particularly in Oman. Despite their established reputation, the retailer recognized the need to revamp their overall shopping experience in two key business units to stay competitive.
Our team worked closely with the retailer to develop a comprehensive strategy that would uplift their brand and enhance the shopping experience for their customers. The project involved a complete revamp, from branding to business strategy to retail store design. Our team leveraged our expertise in branding, business strategy, and retail design to provide a tailored solution that met the unique needs of the retailer.
By the end of the project, the retailer was able to offer an enhanced shopping experience that reflected their luxury brand, and that was more appealing to their customers. The new store design and branding efforts, in particular, helped the retailer stand out in the competitive beauty and cosmetics industry in Oman. Our team was thrilled to be able to help the retailer take their business to the next level and provide their customers with an exceptional shopping experience.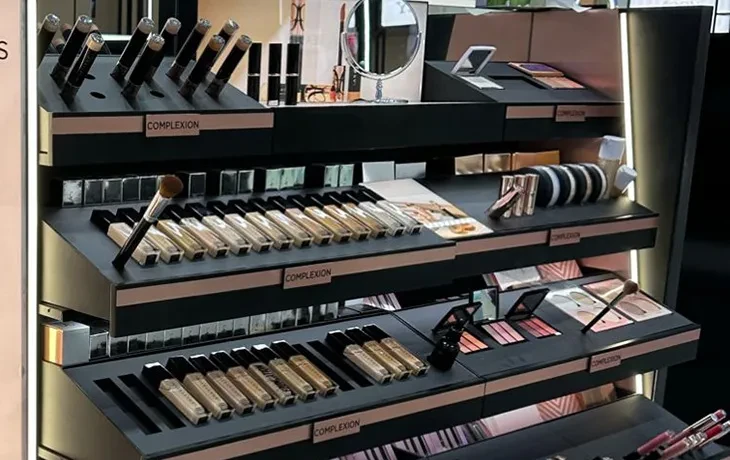 Services
Market Study
Conducted market consumer profiling and defined target customer segments
Provided an overview of the market categories and defined the ideal experience to create for different segments of target customers
Analyzed key market facts and figures, including market share, performance, breakdown by location, product type/size/brand, and distribution channels
Conducted a benchmark analysis, identified best market practices, and presented case studies
Strategic Direction
Developed a comprehensive business strategy and plan to re-position the retail brands as the top sellers of high-end beauty and homeware
Refined the brand positioning to enhance its appeal to the target customer segments
Developed an implementation plan that would not disrupt the existing business operations and sales
Brand and Retail Concept Creation
Created a new brand architecture that reflected the retailer's luxury brand positioning
Uplifted the overall branding by revamping the logo and other key brand assets
Developed all brand collaterals, packaging, and assets to enhance the brand image
Created a new retail concept and experience for both beauty and home products that reflected the retailer's brand positioning and enhanced the shopping experience for customers