Leading Beauty Retail Brand Store Design
Transformed a leading beauty retail brand's image and retail environment through strategic planning and design. Our audit process allowed us to understand customer behavior and identify key products and categories. Through the implementation of a detailed customer journey, brand identity, and retail store design, we helped our client become a cutting-edge beauty destination, differentiating them from their competitors.
Overview & Scope
We collaborated with a leading beauty retail brand to transform their image and create a modern, captivating shopping experience for customers. Our goal was to revamp the brand's identity and design a new retail space that would showcase the world's top beauty brands in a trendy and engaging environment.
Our team approached the project with a focus on creating a unique, memorable shopping experience that would cater to both beauty enthusiasts and new customers. We implemented our strategic planning and design expertise to optimize the space and enhance the functionality and efficiency of the retail environment. Our aim was to create a space that was both visually appealing and functional, allowing customers to easily navigate and discover new products.
We successfully helped our client become a cutting-edge beauty destination. From the initial brainstorming sessions to the final execution, we ensured that every detail was meticulously planned and executed. Our collaborative approach and expertise in design and strategic planning enabled us to help our client realize their vision and stand out in the highly competitive beauty industry.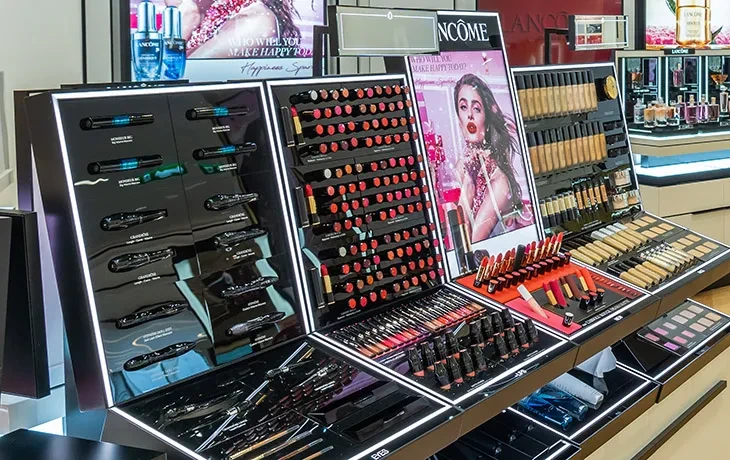 Services
Audit & Analysis
Mystery shopping
Interviews with staff & store manager
Location, format & VM audit
Understand client profiles & behavior
Best selling categories and products, current challenges etc...
Current online presence and future goals
Understanding competitive landscape • Direct & indirect
Evaluate space and building constraints (can the Landlord technical representative be available)
Strategy
Report on the existing brand & store
Industry best practices
Benchmark of key international cosmetic concepts (Europe, US, Middle East, Far East)
Offer & function analysis
Differentiation factors
Customer experience sequences
•Services offered & brand mix
Technologies applied
Developed a new strategy to turnaround the brand & store identity with clear objectives and pivoting initiatives to be undertaken
Implementation
Detailed customer journey design
Brand identity & expression design
Retail store design
Technical package
Retail design and guideline creation