Leading Jewelry Retailer Store Design in UAE
Transformed a jewelry retailer by providing market research, design, and strategy services. Created a unique brand identity, optimized store layout and merchandising, and developed a product portfolio strategy, resulting in significant business growth and a strong brand presence in the region.
Overview & Scope
Our team was engaged by a leading family-owned jewelry and watch retailer that had been operating for decades but had yet to establish a distinct brand identity. Our task was to transform their unbranded, typical Souq-type store into a reputable brand and retailer that would be able to compete with both international and local mid to high-end brands and retailers in the region.
In order to meet current business standards and remain competitive against newer market entrants that follow international trends and standards, we worked with the family to revamp their business strategy and retail experience. This involved creating a unique brand identity that resonated with customers, upgrading the store's physical appearance and visual merchandising, and implementing marketing and communication strategies that targeted key customer segments.
Our approach helped the family-owned business to establish a strong brand and retail presence in the region, resulting in significant growth in their multi-brand business. By prioritizing customer experience and adapting to changing market conditions, the retailer is now well-positioned to compete with other established brands and retailers.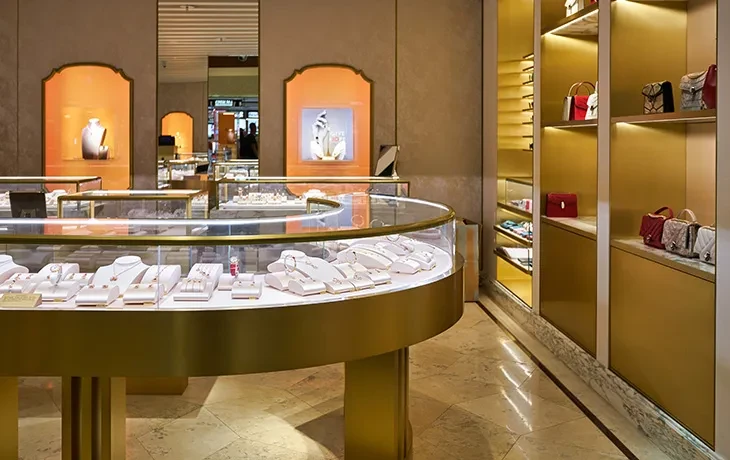 Services
Market Analysis
Conduct market research and benchmarking to identify best practices
Analyze competitive landscape
Profile customers and identify target audience
Audit customer journey and analyze customer experience
Audit the product portfolio and identify gaps and opportunities
Design
Create a unique and compelling brand identity for the retailer
Develop marketing assets and brand guidelines
Design packaging that aligns with the brand identity
Optimize product merchandising and category management for maximum impact
Design new store layout that enhances customer experience
Oversee execution and implementation of design elements
Develop retail guidelines that ensure consistency across all locations
Strategy
Design the customer journey to improve customer experience and increase sales
Develop brand positioning that sets the retailer apart from competitors
Create content and copy that aligns with the brand and resonates with customers
Develop a product portfolio strategy that optimizes the product mix and maximizes profitability.